Supplier integration is critical when building a superior customer experience. Alfa works with designated partners who are tried, true and tested – those who consistently satisfy their customers and who align with our End-2-End supply values. Our entire selected partner network enables Alfa the ability to offer productivity of global mobility services effectually anywhere. 
Global Mobility
We stay ahead
Global mobility is chasing ever more flexible supply chains and we draw inspiration from real-time data to maintain a leading edge in this dynamic landscape. 
Alfa shares its industry know-how with partners and customers as we pursue continuous ways to unlock additional value from our supply chain.
We hold the belief that through learning, reflection, and forging new connections, our customers achieve a sense of enduring partnership with Alfa's comprehensive service solution.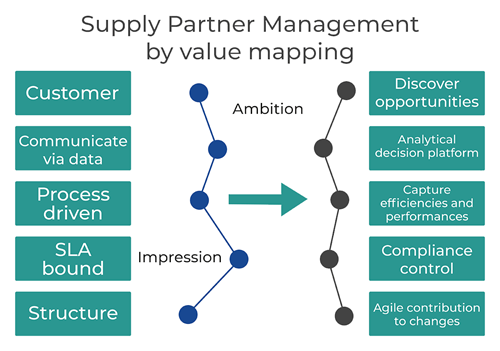 Supplier Integration
We have connections – worldwide
Supplier integration is critical to success in today's market.
Alfa delivers services in approximately 150 countries annually. This intercontinental presence is a direct result of decades of building sustainable and transparent partnerships with customers, and selected partners. We travel the world to your locations to see, meet, train and control what we promise to deliver.
The gained knowledge is transferred to our Strategic Procurement Team and amalgamated into our PoM methods. Let us talk about how Alfa can foster supply-based interaction with people across your business.
*SLA = Service Level Agreement
My relocation to Denmark went perfect. The entire Alfa team has made almost the impossible to meet my needs and expectations. All of the personnel are nice and always helped me promptly and with a smile. /Martin
I'm really impressed with the help I got from the team, helping me to get the documents for my residence permit to get all other documents done at the time we arrived in Finland. We couldn't have done it without Alfa! /Sergio
My Immigration Consultant went above and beyond with the application process, which led to an immediate approval of my permanent residency. I am so grateful. /Jennifer
Our Destination Consultant made an excellent work before our arrival in Sweden and after we were installed. She understood perfectly our needs for an accommodation and she found quickly the place where we are now. /Jérome
We received excellent service from Alfa for all aspects of our relocation. We are very grateful for their assistance with booking appointments in Finland. Huge thank you to Alfa for professional handling our case. /Emelie
I am very satisfied with my experience with Alfa. My contact person was incredibly supportive during my move. She carefully listened to my needs and organized the search accordingly in order to find the best suitable accommodation. Great experience overall. Thank you! /Tomas
For all steps of the process, Alfa exceeded my expectations. My consultants were extremely responsive and helpful, and they contributed to making my move so smooth. I am so grateful. /Rachel